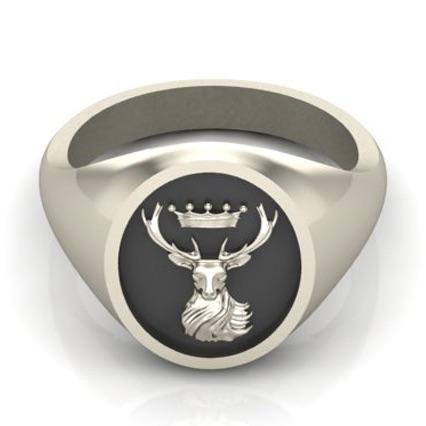 The Signet Ring Company
Stag and Crown - Oxidised Sterling Silver
Stag and Crown - Oxidised Sterling Silver
$246.00
or make 4 interest-free payments of $61.50 AUD fortnightly with
More info
Details
Sterling Silver

With Oxidization
Men's/Women's Signet Ring
14mm x 12mm Oval
Dimensions:
Size:  14mm x 12mm
Thick:  2mm
Handmade with Hallmark.  Made in Australia.
A beautiful solid sterling silver signet ring with oxidisation displaying a beautiful Stag with Crown
The stag has a variety of symbolic meanings in heraldry.  It can indicate someone skilful in music and a lover of harmony.  It may also indicate a person who for sees opportunities well.  In the latter case it is a symbol used for one who is unwilling to assail enemies rashly, who would rather stand his ground than harm another wrongly, and one who will not fight unless provoked.
Antlers represent strength and fortitude.  The stag or hart is also an emblem of purity and fleetness.  The stag was associated with healing, for he knew which medical plants to take in order to shake off the hunter's arrow.  The person bearing this symbol was considered impervious to weapons.
The crown is an emblem of victory, sovereignty and empire in heraldry.  It is a visible sign of success, thus the term "crowning achievement" and its significance as the decoration of the ultimate level of rank and power, makes bearing the crown a great honour. 
 All of our rings are designed and made in Australia by our expert team of goldsmiths.
Your signet ring arrives in our bronze signature ring box. Free freight in Australia.

Any questions please feel free to email hello@thesignetringcompany.com and we will be happy to help.

Please allow 2 - 3 weeks for delivery.
Available in sizes:  N, P, R, T, V