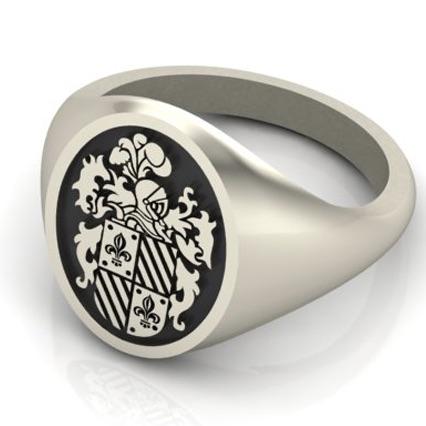 The Signet Ring Company
Fleur de Lis Coat of Arms - Oxidised Sterling Silver
Fleur de Lis Coat of Arms - Oxidised Sterling Silver
$246.00
or make 4 interest-free payments of $61.50 AUD fortnightly with
More info
Details
Sterling Silver

with Oxidization
Men's/Women's Signet Ring
16mm x 14mm Oval
Dimensions:
Size:  16mm x 14mm
Thick:  2mm
Handmade with Hallmark.  Made in Australia.
A beautiful solid sterling silver signet ring with darkened background displays a beautiful Coat of Arms with Fleur de Lis emblem.
The Fleur de Lis has been used to represent French royalty and in that sense it is said to signify perfection, light and life.  
Legend has it that an angel presented Clovis, the Merovingian king of the Franks, with a golden lily (or iris) as a symbol of his purification upon his conversion to Christianity.
A stylised lily composed of three petals bound together near their bases,  although especially associated with French royalty it is also the emblem for many places around the world including Spain, Canada and the United States.
The Fleur de Lis - also spelled Fleur de Lys is an iris versicolour or "Harlequin Blue Flag" endemic to the wet lands of the eastern coast of the United States and Canada.  Some historians believe that Jacques Cartier brought it back from his first voyage to the "Nouvelle France" and it strongly resembles the flowers growing on the shores of the Lys river.  
It has represented peace, war, religion, politics, royalty and more!
All of our rings are designed and made in Australia by our expert team of goldsmiths.
Your signet ring arrives in our bronze signature ring box. Free freight in Australia.

Any questions please feel free to email hello@thesignetringcompany.com and we will be happy to help.

Please allow 2 - 3 weeks for delivery.
Available in sizes:  N, P, R, T, V